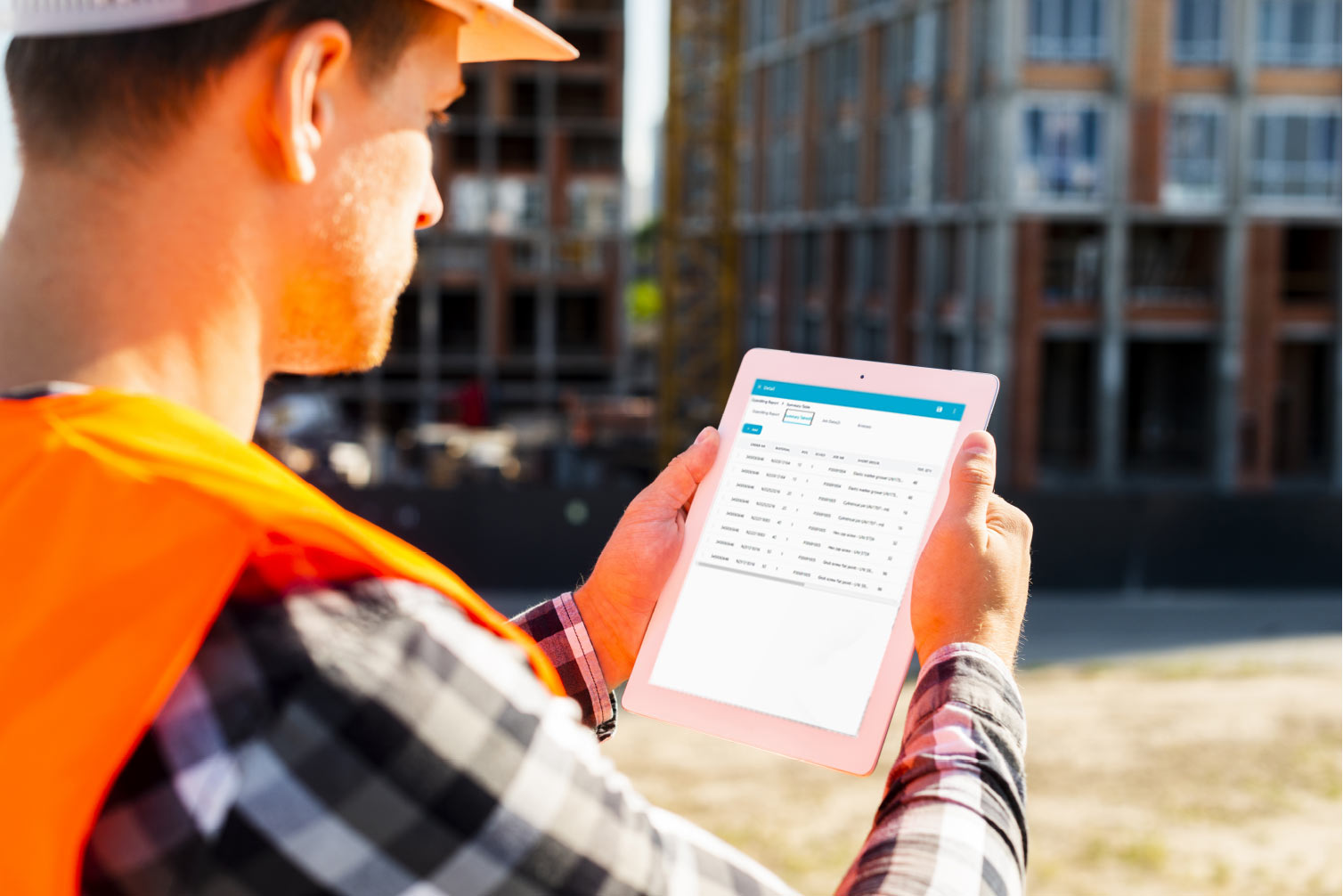 InspectionSite is a cloud-based software for inspections and surveys developed by Orangedev to automate and streamline workflows
How? By revolutionizing the management of inspections, making them not only faster and more efficient but also considerably less costly and cumbersome.

Whether it's from a tablet or smartphone, InspectionSite App allows you to fill out forms with data, photos or videos of an inspection, generate shareable PDF reports with clients and back-office; synchronize data in the cloud which can be accessed at any time and from anywhere via the web area "Portal".

The cloud (Secure Cloud) has been designed to ensure a system that keeps encrypted data safe, thanks to regular automatic backups.

Let's see in detail what are the most important benefits of InspectionSite for those who operate in the field of inspection activities.
How can an Inspection and Survey software like InspectionSite help you?
Bringing InspectionSite, the inspection and surveying software, into your company represents a major transformation in the field of digital inspection. A radical change in a out-of-date way of working that can no succeeds in today's scenario.
The "operational side" benefits are numerous and now recognized by professionals who carry out inspection activities in the most diverse industries from the manufacturing to the Maritime, from Oil&Gas to the world of large infrastructures and civil works.
Here are the InspectionSite features that can facilitate the management of inspections in different contexts.
How to interact with InspectionSite, Inspection Management Software
Before delving into the benefits, it is good to remember the 3 components to interact with the software, and deepen their functionality: 
the App

is used during field inspections 

the back-end web portal

: helps manage inspection processes in a centralized hub, from planning activities to data analysis 

the infrastructure

.

Both the app and the portal update automatically, ensuring the integration of the latest features and enhancements without the need for manual intervention.

In addition, the platform can be used from any kind of mobile device or workstation and operating system (iOS, Android or Windows). The ability to use the platform from any mobile or desktop device (iOS, Android or Windows) offers great flexibility in being able to access the software everywhere, even in offline mode, in places without an internet connection.

What can you do with InspectionSite?
Plan the workflow of inspection activities
As mentioned, the software helps manage inspection activities, plan the workflow with deadlines and guidelines on the various actions involved and critical issues to be reported, aimed at resolving the anomalies found.
Through digital workflow planning, you can assign and monitor activities, reducing the time it takes to organize and coordinate inspections. Most importantly, it eliminates delays in planning and communicating activities to each field technician.
With clear planning accessible to the entire team, communication improves and potential delays are reduced.
Eliminate paper and speed up inspection reporting with an inspection software
InspectionSite aids to capture, collect and store inspection data in the cloud, streamlining the reporting activity. Cloud storage allows for rapid sharing of a large amount of data and facilitates collaboration and communication.
This digitized process eliminates the need for manual operations and paper documents, allowing instant access to information wherever you are.
Therefore, the app automates the burdensome task of inspection reporting, allowing more checks to be completed in less time and reducing "human errors".
But there's more: adopting sustainable and digital practices is a strong element in favor of the company's image.
A great aid to orderly attach photos and videos to document inspections
Documenting inspections with photos and video is critical as a visual proof of the conditions observed and anomalies detected. InspectionSite allows you to do it in an effortless and neat way.
And you can save everything in the cloud (where data is stored for 3 years), the technology that allows you to access the data archive from anywhere with an internet connection. This makes it easy to store and share all high-resolution photographic material.
Photos and videos provide clear visual documentation of conditions observed during the inspection check, which can be more detailed and informative than a written description.
This tangible evidence serves in case of disputes or claims, providing an impartial visual record of the conditions at the time of the inspection.

Offline Inspections with the inspection App
It is possible to carry out inspections at any time, regardless of internet connection availability.
Even in offline mode, you can fill out the form and capture photos and data. As soon as a connection is available, the inspection report is saved on the cloud where it will be stored. 
This feature is especially useful for field inspections in places with little or no connectivity. Data is stored in the App without using the device's storage and synchronized to the cloud when a connection is available, eliminating data loss and work delays.
The data collected by InspectionSite also integrates with any other pre-existing company software (such as ERP or CRM) via REST API – https://www.inspectionsite.cloud/api/.
Integrating data between InspectionSite and other systems such as ERP or CRM allows for a more fluid and automated workflow, eliminating the need to manually enter the same information into multiple systems, saving time and reducing the risk of errors.
What is the advantage of integration? The integration of platforms within a company ensures data consistency across all systems, allowing for an overall view.
Create customized reports that you can save and/or share immediately
After completing the inspection, you can automatically generate legally valid, detailed, and customized reports based on the data collected.
Even large reports – containing hundreds of photos- in various formats (PDF, Word, Excel) – can be stored in the cloud without taking up memory space on devices or company storage.
The output reports generated are shared in PDF format, along with collected media, to be consulted by colleagues, supervisors, customers, and the back office, benefiting from real-time communication. Most importantly, InspectionSite provides the traceability needed to maintain a complete record of all inspections, making it easier to resolve any issues.
And we know that one of the most critical aspects of companies is precisely the communication and sharing of information and documents between departments, colleagues, and managers.
A bottleneck that can cause many organizational inconveniences, with serious repercussions on the management of company projects. Overcoming this obstacle means saving time and creating a smooth workflow.

Data Analysis Tool 
Among the benefits of InpsectionSite we cannot fail to mention the immediate availability of the data collected on-site which automatically feeds a dashboard of statistics critical for the data analysis. This avoids manually transferring data to other systems because InspectionSite is integrated with PowerBI and uses data right after they have been collected on-site.
Ensure the integrity and compliance of data
The inspection software has been developed according to the highest technology standards to ensure data integrity and compliance.
It is clear that the use of a certified tool that complies with industry standards ensures compliance with relevant regulations and policies, establishing a climate of trust with other businesses, entities, or institutions, improving business relationships and the company's reputation.
This approach to security and compliance, in addition to the possibility of notarizing inspections on the Blockchain, allows for establishing a climate of trust with clients, other entities or institutions.
The ability to notarize on the Blockchain provides unalterable traceability of operations, ensuring an additional level of security and reliability.
Platform easy to use, even for non-technical users 
Another very important feature of InspectionSite, which turns into a concrete benefit when in use, is its very simple navigation interface, designed to facilitate its use even by non-technical users, reducing the need for intensive training and the time to complete tasks. The platform allows customization in inspection models, checklists, and workflows.

InspectionSite: "Pay as you Go", no license cost, you pay for the service based on the volume of activity
The software developed by Orangedev is provided in a "Pay as you Go" mode, meaning there are no license costs or monthly subscriptions regardless of the volume of activity.
Not having a fixed cost of license or monthly subscriptions, you only pay for what you use. This allows you to control your budget and adapt it to your specific needs.
Companies that do not need constant use of the software only pay for what they use, avoiding wasting money on unused features or services. And if needs change, there are no constraints.
Getting started with InspectionSite is quick, and your platform will be up and running in no time. Just select the report kit size tailored to your needs.

Request a free demo of InspectionSite
Given the features and benefits of this inspection management software, all that's left is for you to try it out in the field. You can request a free demo if you also carry out inspection and maintenance activities and want to see how InspectionSite works.
It is undeniable, and perhaps even unnecessary, to recall a concept that has been popular for decades about the importance of digital technology, as an integral part of our existence, rooted in all areas of our life: in private, at work, on the move, remotely.
Embracing this change is no longer an option but a fundamental step to "survive", or rather, to prosper in an ever-evolving environment. A change that we have already been observing for several years, and which will be increasingly relentless.
If until a few years ago companies still struggled to implement digitization, today they are much more evolved and aware of the so-called twin transition on the green and digital ground.
Statistics confirm it: the digital maturity of companies is at a good level: it touches almost an average of 3 (2.85) on a scale of 1 to 5 (maximum digital maturity), as confirmed by the analysis of the Digital Innovation Hub of Confindustria based on a test by the Polytechnic of Milan (Source: Confindustria.it website).
Don't forget to request your free demo!