Punch list management
Business sector: Engineering industry
Read about how a company that delivers inspection services utilizes InspectionSite to perform inspections of medium-sized and large-sized machines manufactured by a customer. Their equipment inspections aim at detecting non-compliance issues as specified on a punch list and according to design specifications.
A prominent customer of ours is a company that specializes in technical audits, inspection and business process outsourcing services. They have been in the Oil & Gas and Power Generation services for twenty-odd years at a multi-national level.
Their inspections are performed by skilled technicians with the purpose of ensuring that products and processes meet the required quality standards across all the production stages right through engineering, testing, inspection, expediting, quality control and all related activities.
With respect to inspections performed on medium-sized and large-sized rotating machinery manufactured by their customer (specifically: gas and steam turbines, reciprocating and centrifugal compressors, centrifugal pumps, expansion turbines and valves), our customer attests that their goal is to guarantee high quality standards and to pre-empt issues previously detected in-the-field. With the help of a punch list, which itemizes flawed items detected on-site, in-depth inspections are therefore performed in manufacturing plants with the aim of spotting and dealing with non-compliance issues.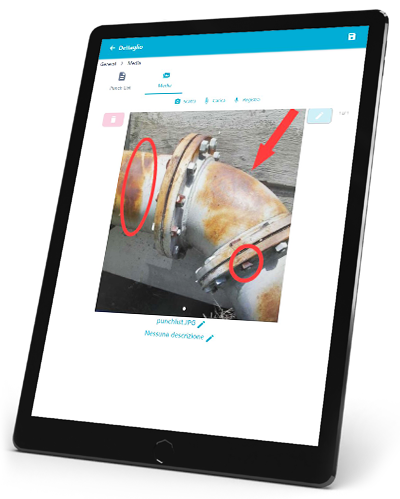 Key features of the inspection activity are accuracy and swiftness in spotting and dealing with
non-compliance issues in order to take corrective action.
The way our customer used to handle punch lists was admittedly outdated, as Excel spreadsheets used to be filled out completely manually and Power Point files were utilized to draw up inspection reports. Any image associated to reports had to be output from the field techs' devices used on-site to a PC and then attached accurately to Power Point files, calling out each single image one by one. It is easy to see how inaccurate and time-consuming such a procedure must have been.
Soluzione
Solution
Orangedev's long-term customer deemed it necessary to work out an agreed solution to enhance
functionality and to take a new approach towards streamlining the procedure for inspection reports. Thanks to the solution we have worked out, we now have new functions at our fingertips:
Create a fully digitized inspection report using InspectionSite app, from data entry according to work orders to all applicable punch lists, that is documents listing work that does not conform to contract specifications.
Compliance audit forms with automated photo capture are generated, listing detailed information relating to flawed items.
Upon inspection completion, signed-off digital reports are issued, thus eliminating the need for hard copy printouts. No need to forward paper reports to inspection managers for sign-off.
Implement effective audit trails over time.
Once a form has been filled out, two files are generated by the system:
– A Pdf report with attached images documenting the inspection activity.
– A spreadsheet for data analysis, including condition indicators for faulty items.
Track the general trend of non-compliance issues with statistics dashboards.
Final results
Field staff and managing team are extremely satisfied with InspectionSite, as it has significantly streamlined the procedure for inspection reports and the punch list process.
Overall, significant improvement in time management and in inspection cost-effectiveness has been witnessed.
PhotoMark
Sorting and identifying pictures acquired during the inspection, quickly and without pairing mistakes. It is possible to mark each media with information, such as: article code, site name, date and time, GPS coordinates.
Sign
Inspector can upload and save his own signature from the APP or sign directly by the device touchscreen, allowing automatic creation of already signed reports, even in multiple positions or pages. It is also possible to acquire multiple signatures, in case reports need to be signed by various inspectors.
Compliance
It allows you to manage non-conformities in a simple way according to customizable criteria. You can easily see which inspections or individual items are non-compliant and track non-compliances even after their resolution.
Report
Report templates are totally customized according to your needs. Also large-sized and containing hundreds of photos output reports are managed and available in PDF, Word, Excel.
BigMedia
Storage of data and photos in original size without taking up space of company devices or storage. You can easily share them with customers/back oce or download them on local devices.
Import
Allows you to import data related to inspections to be carried out, in order to create reports with pre-filled information.
Mailer
Automatic mails to send copies of reports and/or media to customers or other recipients at the same time.