Surveillance of safety systems in industrial machinery
Industry: Industrial and plant engineering, Safety
An InspectionSite customized solution to manage proper functioning regular monitoring of safety systems enbedded on industrial equipments.
The company is a virtuous entity that provides engineering services related to industrial processes, plants
and machines, carrying out innovation, safety and environmental compliance projects.
Among them it carries out regular monitoring and inspection activities on safety devices of industrial
machines supplied to its customers. These are various types of machinery with different degrees of
complexity and technological innovation: for example machining centers, laser markers, sharpening
machines, sandblasting machines. Each of these is equipped with a safety system consisting of automatic
and manual devices that must be turned on in case of emergency or danger, preventing damage to
production and, above all, injury to the operator. Normally, they are never in function, but it is essential
that they correctly turn on and run when needed. Therefore, as regulations require, all equipments are
periodically inspected to maintain and check the proper functioning of the safety systems.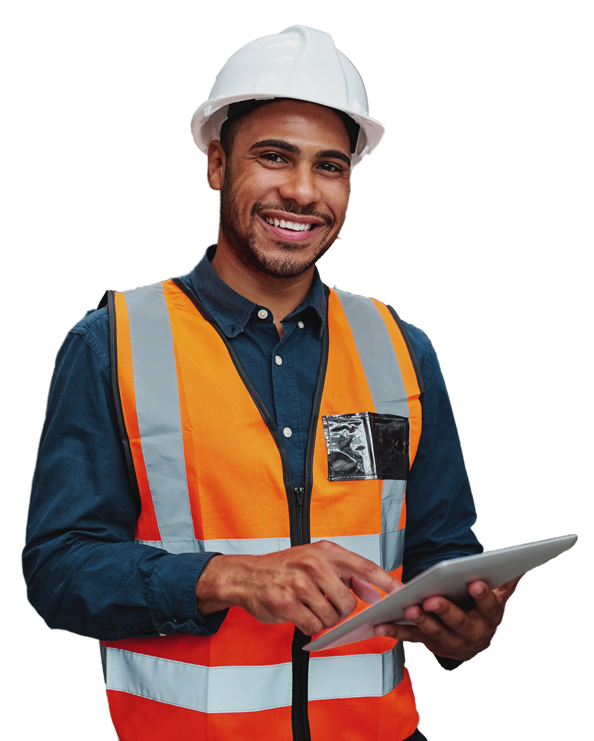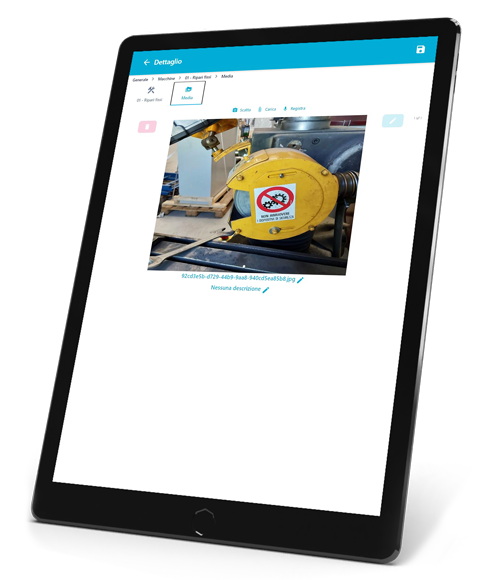 How inspections were handled before introducing InspectionSite
Before introducing InspectionSite, the company mainly used paper checklist in which technicians reported results for device. At the end of the inspection, they went back in office: they had to fill in excel files and compile the report manually: a 300- to 500-page word template to be completed with data and photos organized manually one by one.
The registry of machines was stored in an excel file and all surveillance-related documentation was stored in a folder system in the company's local server, which was replicated in clients; storage systems with shared folders.
Monitoring of expiring activities was entirely manual, that is to say there was no automatic systems to alert of expiring activities. Analysis and statistics were possible, but only after manually updating excel files.
Soluzione
Solution
The introduction of InspectionSite has revolutionized the management and delivery of surveillance service on safety devices. The solution is configured as an asset management system, where every single machine is considered as an asset; at the same time, it is a functional and smart support to compile digital checklists during the inspection thanks to a fully customized form, reducing data collection time and avoiding forgetfulness and errors.
It is a totally cloud-based software in which the back-end web portal and data collection web app are always connected and exchange data in real time.
Web portal functionalities, dedicated to the central unit that coordinates the activity as a whole:
Asset database management (the machines) with the possibility of mapping on the floor plans.
Automatic updating of the database via APIs that integrate InspectionSite with the client's proprietary management system. Alternatively, import via excel file.
A unique shared cloud storage of all equipment documentation (manuals, certificates,..) and history of all reports related to inspections performed over time, including photos and videos in original resolution.
Creation of long-term and short-term activity plans and subsequent scheduling of inspections, assignable to teams of technicians.
Alert system that alerts of due inspections and possibility to prioritize activities.
Dashboard fed with data acquired on site that allows monitoring of up-to-date statistics and KPIs and extracting periodic reporting.
Data also automatically feed the risk analysis tool in real time.
The App for on-site technicians has the following features:
It is compatible with any mobile device and works offline.
Taking charge of assets according to the scheduling and assignments to technicians.
A form that guides the user to check all safety devices in the machine: Dedicated graphical tabs and icons are provided for each device to facilitate the collection of significant evidence and data.
Possibility of upload a floor plan directly in the app to place the inspections in the exact position where the asset lays.
A reporting and tracking system for nonconformities found and recovery actions to be taken.
Possibility to attach photos, videos, voice notes and any other files. Annotate and draw directly on photos.
Contextual consultation of reference manual/regulation.
Automatic pdf report generation and system update of asset status and related data and deadlines. Sharing with stakeholders, and management of the validation-approval cycle with multi- signature.
Result
The introduction of InspectionSite has led to eliminate paper, improving the company's standards in terms of compliance with environmental guidelines, a central issue in company policies.
It has greatly improved the quality and organization of technician's inspections on safety systems. This has led to a significant reduction in equipments downtime, and the time spent preparing reports has been reduced by 50 percent.
There was also a breakthrough in the way documentation produced was stored and shared with its customers, who were extremely happy about leap in service quality.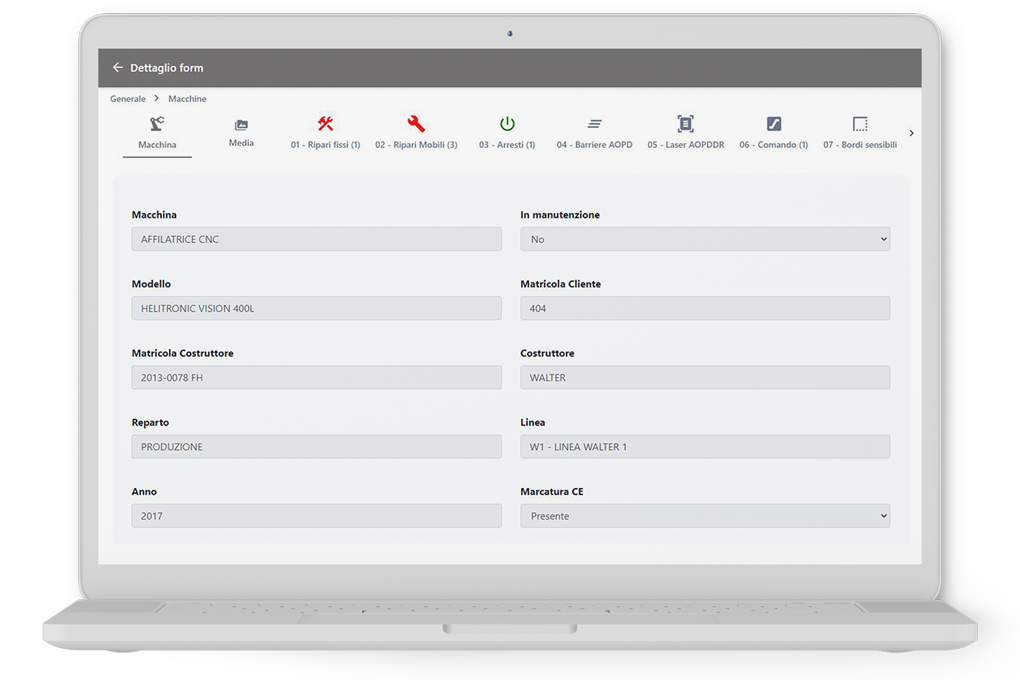 Asset management
Asset-centric tool: inspections of each individual asset over time can be maintained, creating an always-updated history with a cataloged, accessible and searchable dataset. You can straightly assess trend of each element over time.
Drawning
Upload of planimetry in raster format with the possibility to place pictures in the exact place where inspected elements are located.
Vocal
It allows you to add vocal notes on individual elements in the inspection for an easy data collection even in contexts where use of hands is not feasible.
Sketch
It allows you to add notes and sketch directly on pictures taken during the inspection.
PowerBI
Data query and viewing statistics through integrated dashboards or Microsoft PowerBI, to easily analyze and monitor customized KPIs.
Compare
Fast loading of an old inspection and viewing it on display near to the new one. It allows you to compare them and easily and quickly evaluate evolution or status of inspected elements.
Offline
Filling up the forms by on and off line photos and data collection. Reports are synchronized to the cloud as soon as the connection is available.
Sign
Inspector can upload and save his own signature from the APP or sign directly by the device touchscreen, allowing automatic creation of already signed reports, even in multiple positions or pages. 
BigMedia
Storage of data and photos in original size without taking up space of company devices or storage. You can easily share them with customers/back office or download them on local devices.
Planning
Inspection planning and displaying plans in the calendar. It improves the organization of activities for better management of work and resources.